Lend Me Your Ears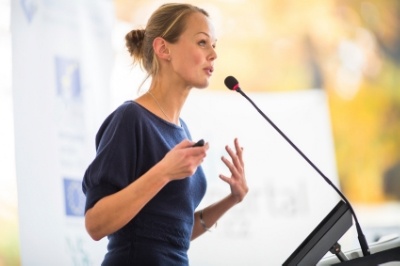 Every sales professional is required to speak in front of an audience from time to time, whether it's a small sales presentation or a keynote speech. Public speaking can be intimidating, especially for those who don't have a lot of experience with it.
We've covered some of the basics of presentation techniques in this blog, including best practices for effective visual presentations; however, for those of you who don't yet feel comfortable speaking in a public setting, I recommend reading Lend Me Your Ears: All You Need to Know about Making Speeches and Presentations, by Max Atkinson. This book has some great tips on how to persuade and inspire an audience, and it's a great guide for developing, practicing, and delivering winning presentations.
Here's a summary from Amazon Books:
"The room darkens and grows hushed, all eyes to the front as the screen comes to life. Eagerly the audience starts to thumb the pages of their handouts, following along breathlessly as the slides go by one after the other. . . We're not sure what the expected outcome was when Power Point first emerged as the industry standard model of presentation, but reality has shown few positive results. Research reveals that there is much about this format that audiences positively dislike, and that the old school rules of classical rhetoric are still as effective as they ever were for maximizing impact. Renowned communications researcher, consultant, and speech coach Max Atkinson presents these findings and more in a groundbreaking and refreshing approach that highlights the secrets of successful communication, and shows how anyone can put these into practice and become an effective speaker or presenter Topics Include: · How to win and hold the attention of audiences; · Using visual aids and PowerPoint more effectively;· Getting your message across and winning applause;· Inspiring audiences;· How to prepare quickly;· Fact and fiction about body language and non-verbal communication."
Love one of our blogs? Feel free to use an excerpt on your own site, newsletter, blog, etc. Just be sure to send us a copy or link, and include the following at the end of the excerpt: "By Mark Jewell, Wall Street Journal best-selling author of Selling Energy: Inspiring Ideas That Get More Projects Approved! This content is excerpted from the Sales Ninja blog, Mark Jewell's daily blog on ideas and inspiration for advancing efficiency. Sign up at SellingEnergy.com."

Want our daily content delivered to your inbox? Subscribe to the Sales Ninja blog!