Fake It 'Til You Make It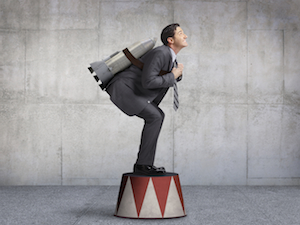 We've all heard the saying "Fake it 'til you make it." What does this saying actually mean? Obviously you can't just fake your way to success – you need skills, knowledge, and a keen business sense to "make it" in the energy efficiency industry. What I think can be gained from this saying is the idea that you have to strive to become better than your current self by shooting for goals that may presently seem out of reach. Here are some exercises and tips to get you started: 
Define success. Write down on a sheet of paper what achieving success means to you. Then write down what you feel are successes in the various aspects of your life. This is a good launching point so you have a clear picture in your mind of what you want and what you're good at.
Set your goals as the person you want to be, not as the person you are.
Observe the traits of the people at the top of your industry and emulate them.
Act and dress the part. Your appearance can greatly affect the way people perceive you, so dress the part, look nice, and use proper business etiquette.
Sound successful in your communications. This means using good grammar and business terminology, and always reading over your outgoing communications before sending them.
Be and act confident. You have to believe in yourself to make others believe in you.
Use the first person plural. Even if you are a small company, refer to yourself as "we" – this gives your prospect or client the sense that you are backed by a larger team.
Set your goals high. You may not always achieve them, but you can't grow if you don't reach!


Love one of our blogs? Feel free to use an excerpt on your own site, newsletter, blog, etc. Just be sure to send us a copy or link, and include the following at the end of the excerpt: "By Mark Jewell, Wall Street Journal best-selling author of Selling Energy: Inspiring Ideas That Get More Projects Approved! This content is excerpted from Jewell Insights, Mark Jewell's daily blog on ideas and inspiration for advancing efficiency. Sign up at SellingEnergy.com."

Want our daily content delivered to your inbox? Sign up for the Jewell Insights mailing list!