Try Something New for 30 Days
Whether or not you decided to start the year with particular resolutions in mind, challenging yourself to new goals can help bring about confidence in different areas of your life. If keeping resolutions for 365 days sounds unappealing, we recommend considering a shorter period of time – 30 days!
A few years ago Matt Cutts, a Google software engineer, shared his experience with 30-day challenges. From writing a novel to climbing Mt. Kilimanjaro, Matt not only found his self-confidence growing, but also became more aware and intentional of how he spent his time.
If you're interested in learning more about the 30-day practice, watch his quick, three minute TED talk: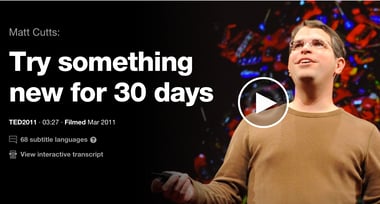 Here's a summary from TED:
Is there something you've always meant to do, wanted to do, but just ... haven't? Matt Cutts suggests: Try it for 30 days. This short, lighthearted talk offers a neat way to think about setting and achieving goals.
Love one of our blogs? Feel free to use an excerpt on your own site, newsletter, blog, etc. Just be sure to send us a copy or link, and include the following at the end of the excerpt: "By Mark Jewell, Wall Street Journal best-selling author of Selling Energy: Inspiring Ideas That Get More Projects Approved! This content is excerpted from the Sales Ninja blog, Mark Jewell's daily blog on ideas and inspiration for advancing efficiency. Sign up at SellingEnergy.com."
Want our daily content delivered to your inbox? Subscribe to the Sales Ninja blog!